Mezzo is UNOTRE's bicycle.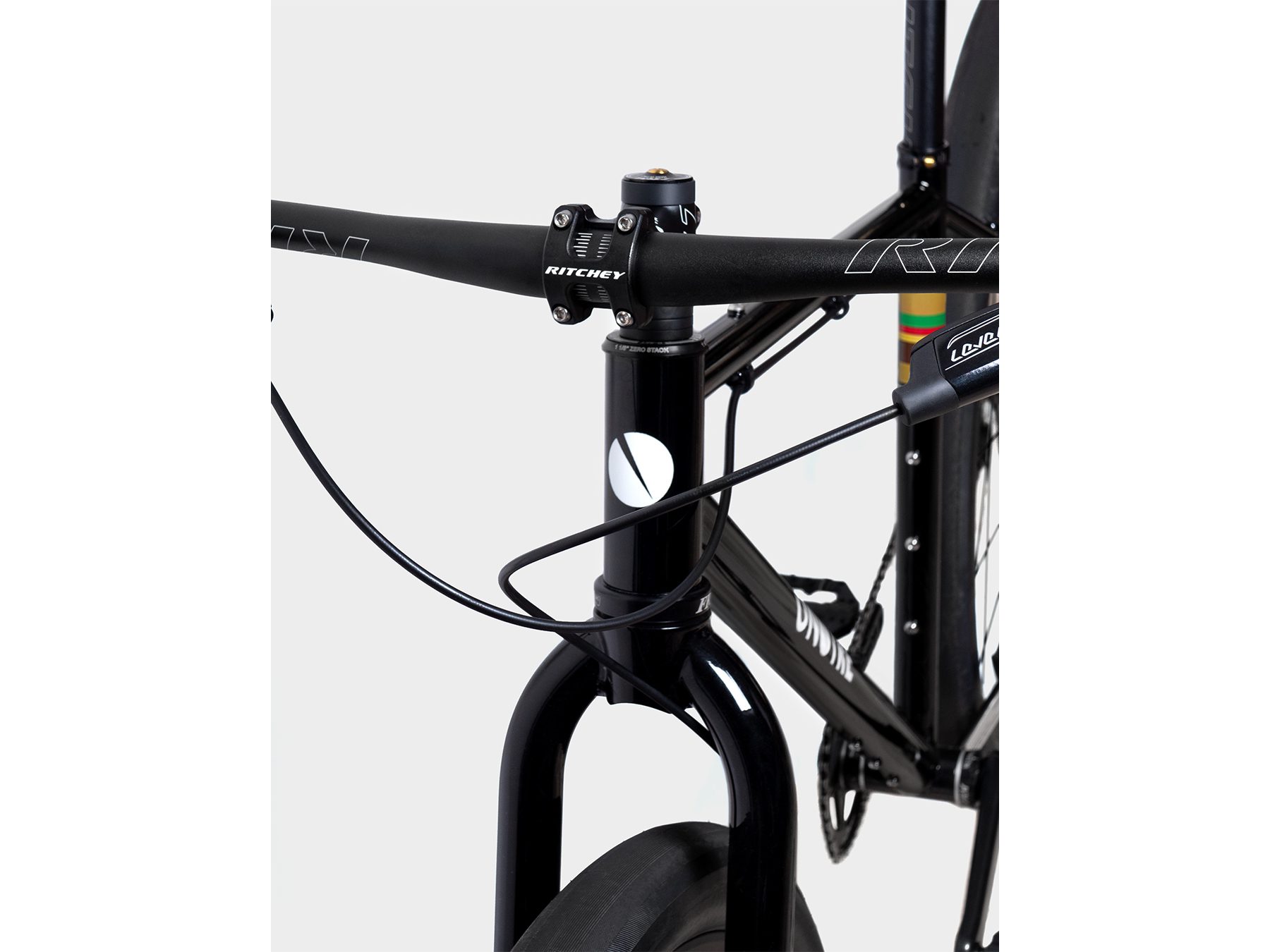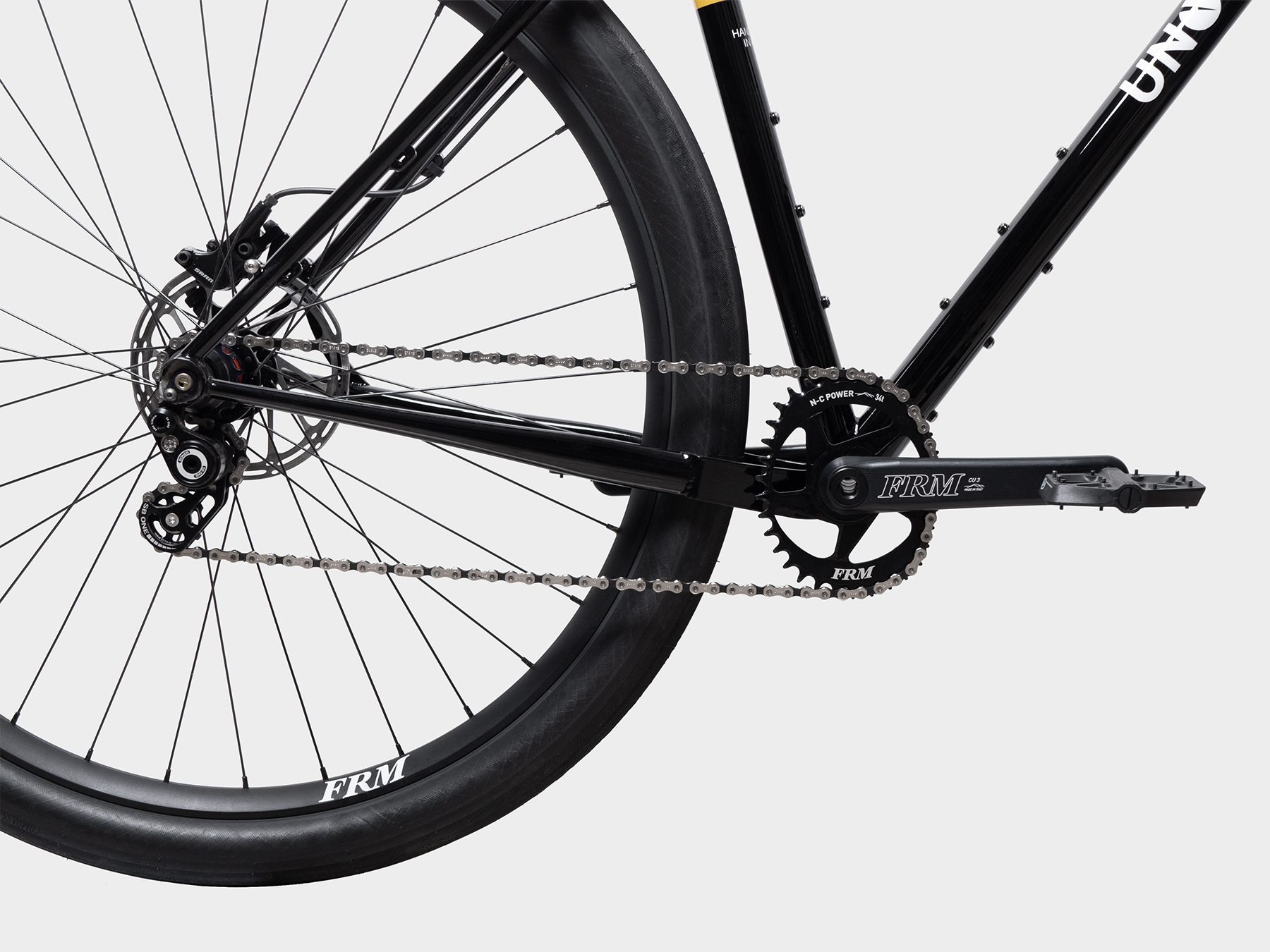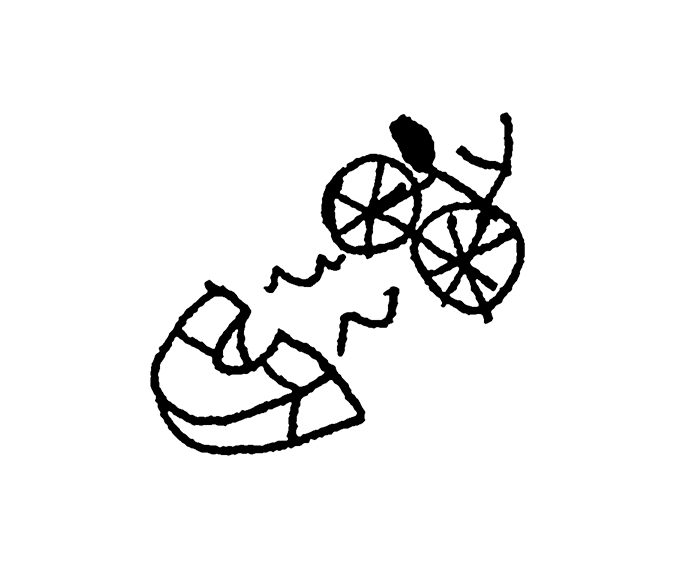 Made of iron
Mezzo is made of steel, with Tig-welded Deda Zero tubes
Made in Italy
Italy is the country that is roughly in the middle of the Mediterranean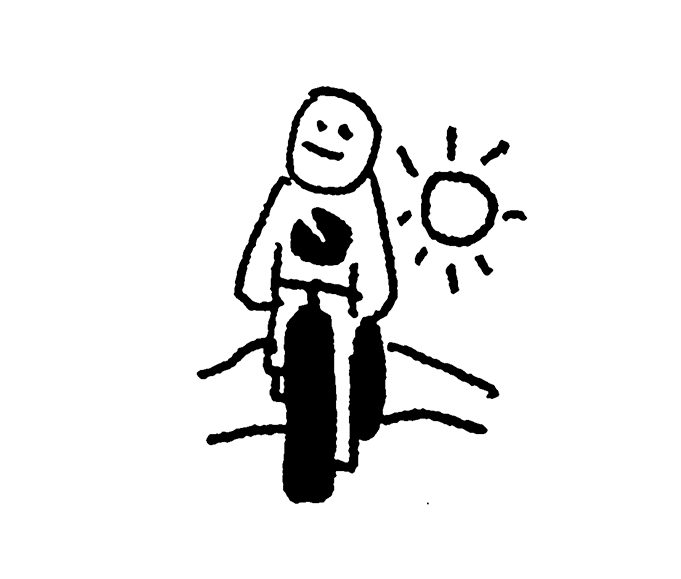 Unique to drive
It is a single speed bike with fat wheels, disc brakes and an oval crown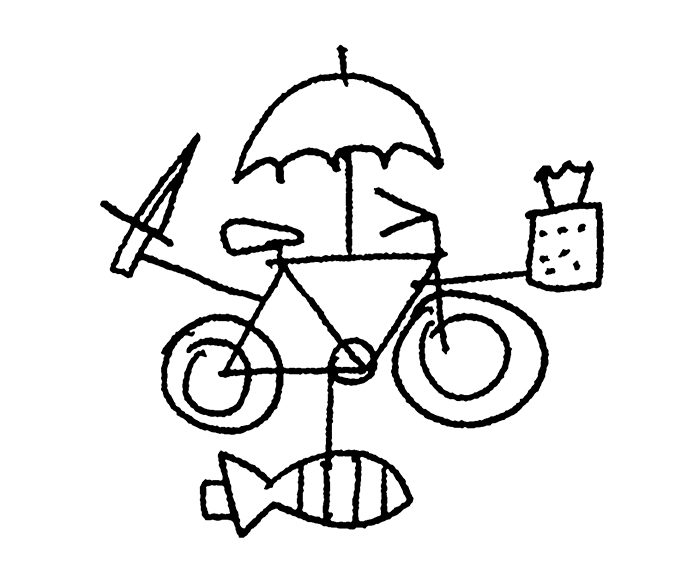 Infinitely customizable
23 attachment points on the frame to attach what you want. Do you want to add a derailleur? You can
Technicalities
Frame handmade in Italy using Dedacciai Zero tubing
Frame handmade in Italy, with TIG welding technique derived from aeronautics. Butted microalloyed steel tubes made in Italy by Dedacciai. Thicker in the most stressed areas for maximum resistance, thinner in the less stressed areas to be lighter.
Attachment points
Multiple threaded and riveted attachment points on frame and fork, to attach front and rear racks or any other accessory.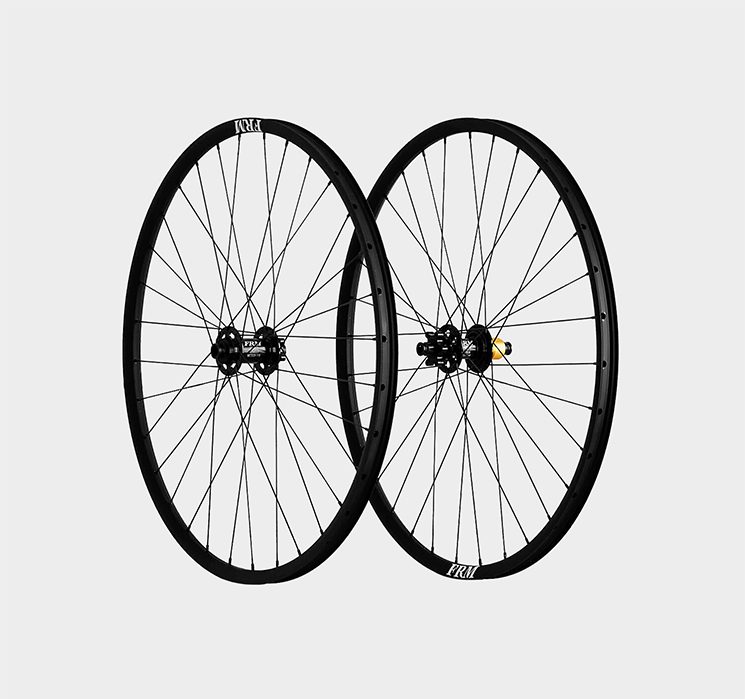 29 inch wheels
29-inch aluminum rims tubeless ready with 25 mm internal channel that guarantees a greater volume of air, ensuring more traction and grip on any surface. Hubs with an internal titanium ring that guarantees maximum resistance, while the optimization of the internal thicknesses allows a significant reduction in weight.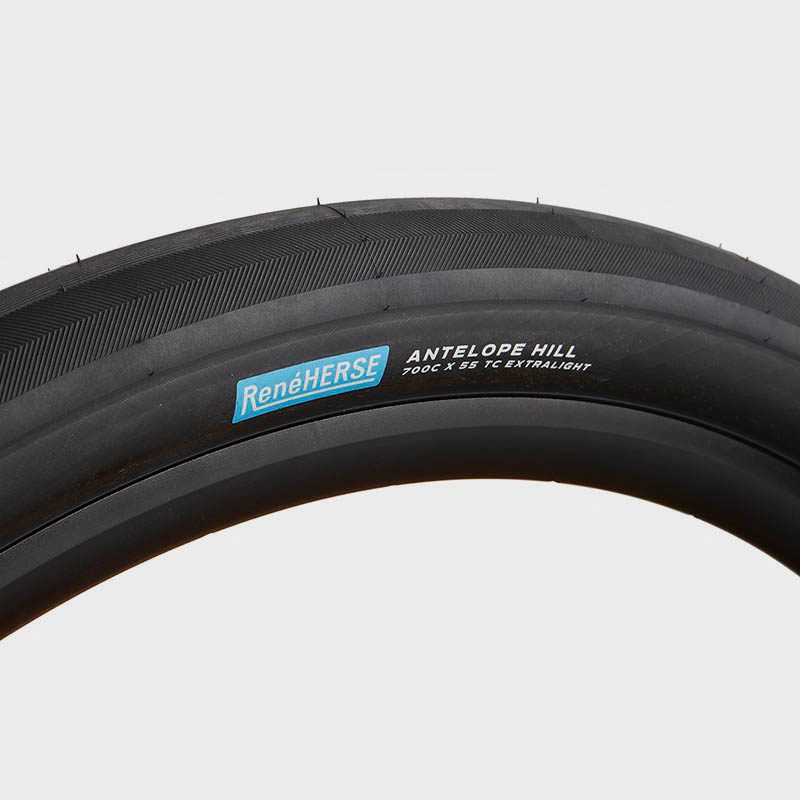 Tubeless ready 55mm tires
Japanese René Herse Antelope Hill Extralight tires weighing just 465g. The 55mm height allows to cushion any type of terrain, even more if used in tubeless mode, lowering the pressure.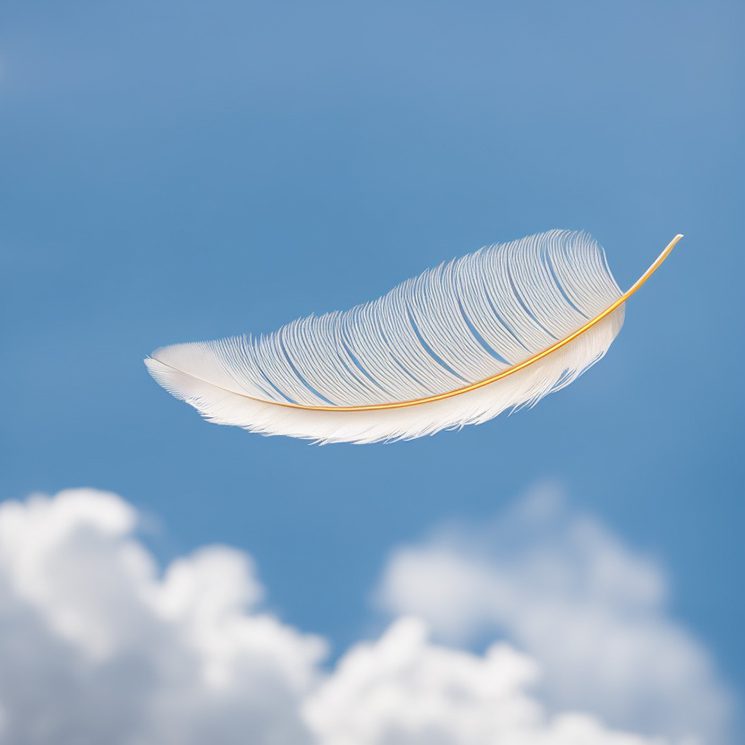 Light
The complete bike weighs just over 10kg, like an aluminum bike, but with all the realness of steel.
Hydraulic disc brakes
SRAM Level MTB hydraulic disc brakes, for maximum modulation of braking and maximum braking power. Two-piston calipers and 160mm discs.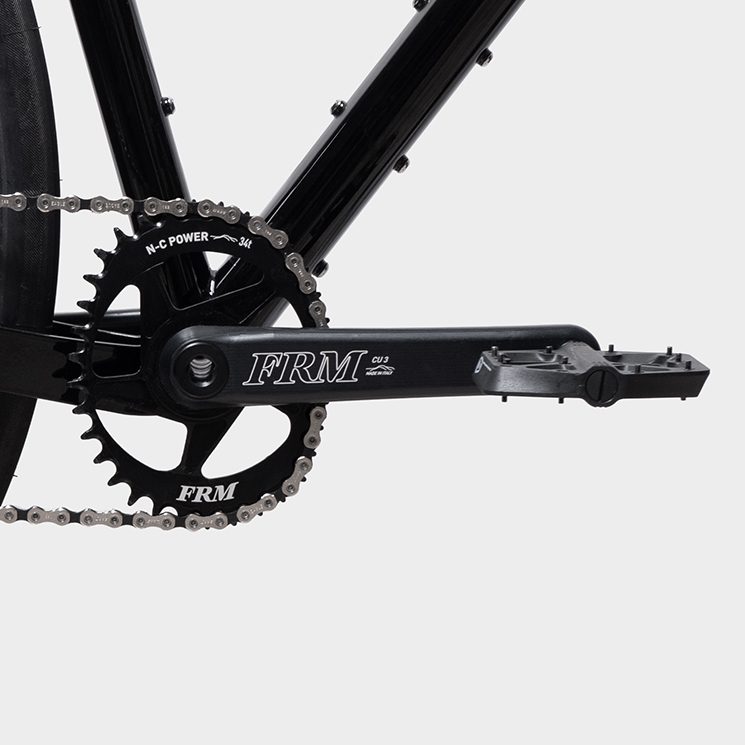 CNC machined crankset
Crankset CNC machined from billet aluminum, discharged to obtain an extraordinary lightness and rigidity. Levers and axle are made of hard anodized aluminum, to avoid oxidation due to atmospheric agents. Titanium bolts.
Oval chainring
Oval chainrings maximize the force of pedaling at the angle where thrust is produced and minimize resistance when the legs are not pushing, so that the gear becomes more agile in the dead points and harder in the thrust phase, resulting in uniform pedaling, better performance and better perception of grip and efficiency.
A single speed with 5,5mt of development
34/14 ratio designed for the city, ideal compromise between ease of restart and maximum speed. For each complete turn of the crankset the bike advances 5.5 meters.
A bike for life
Mezzo is designed to last long and in multiple use scenarios. Steel is the material that tolerates best wear, abuse and shocks (unless catastrophic). The configuration of Mezzo can be the initial one, but also infinite others: you can add a derailleur and accessorize it as you wish.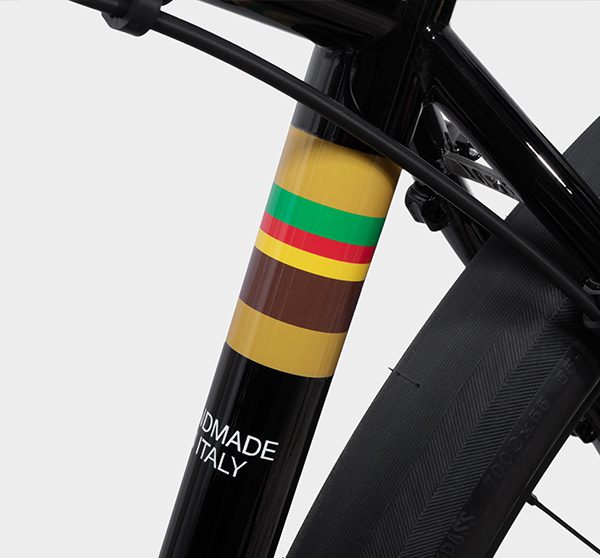 Nopani motif
Logos in various places
Iconic color (black)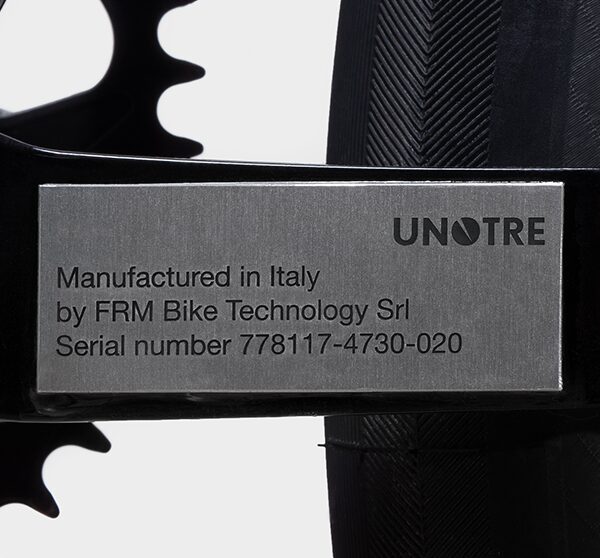 Serial number plate
Customize Mezzo
How
Mezzo is assembled
Mezzo is very well made by hand in Italy by FRM Bike, which adds high-quality components to the workmanship guaranteed by over 30 years of experience.
Ok I'll buy it
I'll still desire it a bit before buying it
Desire Mezzo
If you are not ready yet to purchase Mezzo, you can simply desire it, with the ardor that you consider most appropriate. It is possible to desire Mezzo individually or socially.
Individual methods involve exercising your imagination to depict yourself using Mezzo. Here's a hint:
You are pedaling on a tree-lined road, with a slight slope. The weather is pleasant and the light draws your shadow astride Mezzo on the asphalt. To tackle a small climb, you stand up on the pedals. You are satisfied.
Start individual desirer
Social methods of desiring Mezzo require human relationships to be cultivated in real life and/or access to one or more social accounts. Here are some suggestions on how to socially desire UNOTRE's Mezzo.
Say one or more of these phrases out loud:
Post an image from the following, with a suggested comment or an emoticon:
Buy Mezzo: are you ready? Arguments and formulas
Rational justifications
When an emotional decision needs to be supported, a rational explanation can certainly reassure you and those around you about your actions.
There are several rational reasons why it's better to cycle. The main arguments are the environment, health. Even practicality in many cases. Many are the same for choosing to do it with Mezzo, UNOTRE's bicycle, but in this case you can add to the arguments to consider: elegance, exclusivity, credibility, flair, originality, and style.
Scientific justifications
If you want your purchase choice to be impeccable, the best way is a scientific explanation, much more solid than a simple rational reason.
Here are for your convenience some formulas involved in this explanation, use them at your discretion:
Displacement = Work / force
Money = Work * time / laziness * repetition
Endorphin = Pedaling * repetition
Buy Mezzo
Mezzo
In the end it is justified.
Single-speed steel bike
29 inch wheels with 55mm tires
Hydraulic disc brakes
Multiple mounting points for racks and accessories
Handmade in Italy
3.380,00€
Login to buy
Frame Deda Zero tig welded
Stem 4130 CrMo
Attacco manubrio Ritchey Comp Trail/Rise
Handlebar Ritchey Trail
Seatpost Ritchey Comp Trail Zero Black 27,2
Seatpost clamp FRM SC
Crankset FRM CU3-M11 fully CNC machined
Chain tensioner SB ONE DH
Gearing 34/14
Development in meters 5,48mt
Disc brakes SRAM Level
Rotors SRAM Centerline 160mm
Headset FRM D-Set
Wheels FRM Arenaria 29
Saddle Repente Quasar
Tires Renè Herse Antelope Hill Extralight 2,2"
Estimated height of the rider (in cm)
| | | | | | |
| --- | --- | --- | --- | --- | --- |
| XS | 163-170 | | | | |
| S | | 168-176 | | | |
| M | | | 174-180 | | |
| L | | | | 178-186 | |
| XL | | | | | 186-195 |
| SIZE | XS | S | M | L | XL |
| --- | --- | --- | --- | --- | --- |
| A | 432 | 452 | 465 | 485 | 495 |
| B | 535 | 550 | 565 | 580 | 600 |
| C | 100 | 110 | 110 | 130 | 150 |
| D | 445 | 445 | 445 | 445 | 445 |
| E° | 75° | 75° | 75° | 75° | 75° |
| F° | 69° | 69° | 69° | 69° | 69° |
| G | 1071 | 1087 | 1103 | 1119 | 1141 |
| H | 596 | 600 | 605 | 624 | 642 |
| I | 375 | 389 | 402 | 415 | 427 |
| L | 483 | 483 | 483 | 483 | 483 |
| M | 70 | 70 | 70 | 70 | 70 |